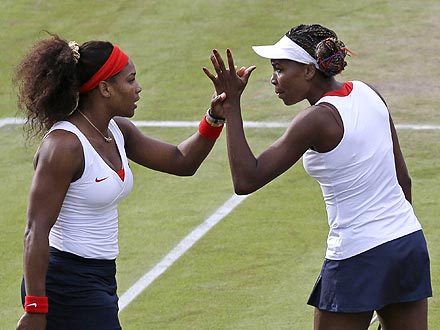 Venus and Serena Williams have another significant title to add to a wall of trophies and medals that is probably filled to the max. The two sisters won the doubles championship at the Olympics in straight sets, winning 6 – 4 ,6 – 4 over tough Czech Republic players Andrea Hlavackova and Lucie Hradecka.
This is the second medal for the sisters at the games. Serena, on Saturday, dominated Maria Sharapova 6 -0, 6- 1 in what was the most lopsided defeat ever in the gold medal match at the Olympics. With the win, Serena joins Steffi Graf as the only player to have ever won the Golden Slam, which is to win the Olympics, along with four majors.
The crowd changed "U-S-A! U-S-A!" as the women walked off the court. Serena is the first double gold medalist in tennis since her sister Venus did the same in the 2000 Olympics. The sisters also won gold in the doubles in the 2008 Olympics. The sisters won the title in dominating fashion, not losing one single set during the entire five matches.
FABcredit:
Black Like Moi